Lessons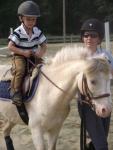 Under the direction of owner and Head Instructor, Holly Rebello, lessons at Hidden Brook Stables are tailored to the individual rider's capabilities and goals. We provide a safe, family friendly environment on quality school horses and ponies. Hidden Brook Stables offers equitation, hunter and jumper lessons to riders of all ages and levels of experience. In addition to actual lesson time, students assist in grooming, tacking up, and learning basic horse care. Good horsemanship comes from confident and conscientious horse handling and is a must at Hidden Brook.
Riders also have the opportunity to join our IEA Teams, show at the many rated shows we attend each month, par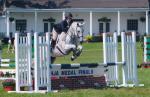 ticipate in schooling shows or just enjoy a weekly riding lesson. We offer both private and group lessons, conducted in our indoor or outdoor arenas. We want to share our love of riding with everyone, from the beginner to the experienced rider. Everyone is welcome, from those who show to those who ride for pleasure. You'll find what you're looking for at Hidden Brook Stables!

About Holly Rebello!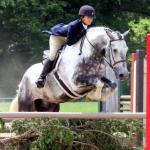 Holly has been a horsewoman for over 30 years and is an accomplished equestrian. She is well known as a trainer, instructor, coach, and competitor. A graduate of the University of Rhode Island she obtained a Bachelor's degree in Animal Science and competed at the regional level with the intercollegiate (IHSA) circuit.
As an instructor, Holly brings her experience from the A-rated circuit, and some of her noteworthy accomplishments include championships in Amateur Owner, Adult Amateur Hunter, Pre-Green, and Adult Equitation. She also won the Connecticut Hunter & Jumper Association Adult Medal Finals with London Fog and was presented with their prestigious Sportsmanship Award.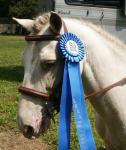 Holly's partner, London Fog, has been awarded Lifetime Achievement awards from the New England Horseman's Council , Connecticut Hunter Jumper Assoc. and the Connecticut Horseshow Assoc. He has partnered over 20 riders to nineteen championships at eight different national and state and regional finals. Holly's students have qualified for and won state, regional, M&S and Zone Finals.
Holly serves on the Board of Directors of the Connecticut Hunter & Jumper Association and is the Co Chairman of the Equitation Committee, which oversees the Medal Finals. She also serves on the Awards Committee. Holly is also a member of the IEA Zone 1 Ethics Committee.
We offer:
Private Jumping Lessons ($50 per lesson)
Beginner or Group Lessons ($40 per lesson)
For more information or to schedule an appointment for an evaluation, contact Holly at 860-377-8299 or email her at mistery_72@msn.com